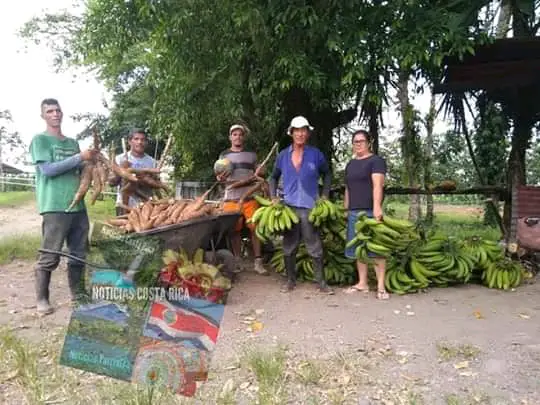 A group of families from Cariari de Pococí, in the province of Limón, delivered part of their harvests to families with economic needs in the Barras de Tortuguero sector, many of whom live off tourism activities, but who, since the crisis began due to COVID-19, have been seriously affected.
"The Finca El Trapiche Association wanted to make a donation of our crops, part of what we have and produced at a time when in Costa Rica we must be united," said César Rodríguez, president of the Association.
TIP: Get our latest content by joining our newsletter. Don't miss out on news that matter in Costa Rica. Click here.
The donation that was delivered this Tuesday, April 21st, consisted of 45 bunches of plantains, 8 quintals of cassava, 200 kilos of sweet and tender ayote (pumpkin), 90 rolls of coriander, among others.
"Share what you have with those who need it most". That was the message given by the families that are part of the Farmers Association of Finca El Trapiche, located in La Esperanza de Cariari.
The El Trapiche farm is a property of approximately 100 hectares located in La Esperanza de Cariari, and around 30 producers in the area develop various agricultural projects with the help of the Institute of Rural Development, INDER