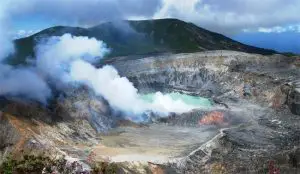 The National Seismological Network (RSN) warned that the lake in the Poas Volcano could disappear entirely in the next few months, if weather conditions do not bring rainfall which is the main reason the lake exists.
The lake has left only 12 meters deep. The lake serves as a kind of filter that stops gases emanating from the volcano from going directly to the atmosphere. If the lack of rain continues, we could see the disappearance of the lake entirely.
Currently the lagoon holds temperatures between 45 ° and 50 ° C, when it should be around 25 ° or less, this causes more gas, sulfur and eruptions.
The RSN in conjunction with the Centre for Research in Geological Sciences from the University of Costa Rica obtained these results after visiting different volcanoes in the country, during the month of March.
The Lagun at Poas Volcano is the most acidic lake in the world.
The Costa Rica News (TCRN)
San Jose Costa Rica