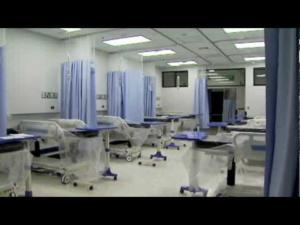 by TCRN Staff
For the new Hospital San Vicente de Paul, de Heredia, operating at full capacity will require 528 new jobs.
This number was determined by the Projections Directorate of Health Services of the Social Security Fund (CCSS), after a study on the number of workers needed to operate the new medical center, whose opening is scheduled for May.
According to the Fund, the hospital will employ just over 1,300 employees, 800 of them will be transferred from the current Hospital San Vicente de Paul to the new building.
The 528 vacant positions will be filled following a recruitment process that has already started, according to the institution.
The totality of vacancies will be distributed to medical staff, nurses, engineers and administrative staff.
Rosa Climent, medical manager of the Fund, said the agency already devised a way to budget the salaries of new employees.
"Of the 528 seats, we have 124 that we pay with the hospital's own budget, because we only have to do a conversion for overtime, the idea is to give staff more job security" the official explained.
With 124 seats already defined, the Fund should hire more than 300 new employees. The cost of these contracts has not yet been calculated by the CCSS.
"We are already receiving job applications, we hope to have the eligible list before May, when the new hospital is about to open," said Climent.
For the new positions 18 general practitioners and specialists, 84 nurse practitioners, 28 dieticians, 23 people for six specialists in pharmacy and radiology will be recruited.
It will also require three social workers, 12 health technicians and 156 administrative.
The manager stated that in May there will be sufficient personnel to "ensure that the hospital is used as planned."