It is no secret to anyone that cigarette smoke is harmful to the respiratory system of human beings. Affecting its cellular immunity and at the humoral level, also affecting specific mechanisms such as the mucociliary cleaning mechanism and also inducing bronchial inflammation.
All these alterations that cigarette smoke produces in our body favors the appearance of bacterial and viral respiratory infections. That is why smokers become much more complicated if they are infected with COVID-19.
Also, there are other respiratory infections linked to the Coronavirus such as influenza, pneumonia, and tuberculosis, which are known to affect smokers to a greater extent. With high statistics of fatal outcomes.
On the other hand, according to the experts, the physical act of smoking called "vaping" (and therefore the act of repetitively bringing the fingers to the mouth) increases the possibility of transmission of the virus through the mouth. Cigarette handling, associated electronic devices, and hookahs could act as a form (inanimate vector) of the virus.
Sharing a water vaping pipe increases the risks of acquiring COVID-19, social crowding, and sharing utensils such as mouthpieces and hoses with potentially infected people increase the risk to a greater extent.
The 5 Most Traditional Desserts of Costa Rica
Recent studies yield important data on smokers and COVID-19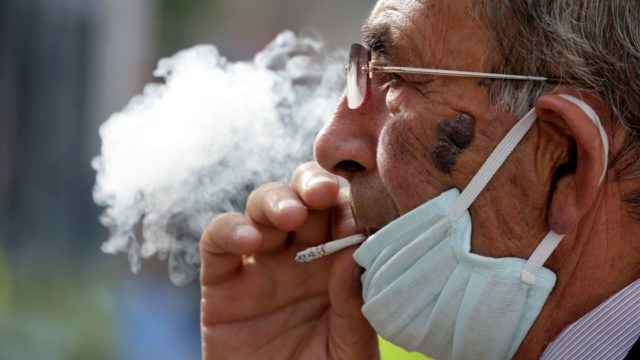 Two observational studies from China that included 1200 subjects with COVID-19 found an increased risk of severe progression of the illness in smokers compared to non-smokers.
Another risk factor that the scientists found was that tobacco use is associated with a poor evolution/prognosis of the COVID-19 disease and more serious outcomes such as the need for intensive care, mechanical ventilation, and death.
The World Health Organization (WHO) states that tobacco use dramatically increases the risk of many serious health problems, including respiratory problems (such as lung cancer, tuberculosis, and Chronic Obstructive Pulmonary Disease – COPD) and cardiovascular diseases.
These studies also found that quitting tobacco use has an almost immediate positive impact on cardiovascular and lung function, and these improvements only increase over time.
Quitting smoking becomes a preventive measure during the COVID-19 pandemic. This greatly increases the responsiveness of COVID-19 patients and reduces the risk of death. With a faster recovery rate and a reduced risk of transmission of the disease to other people.
Recommendations
• Smokers have a higher risk, not only of contracting COVID-19 but of having a poor prognosis in case of contracting the disease. Therefore, it is recommended to reduce its consumption or eliminate it.
• If you are a smoker we recommend asking a specialist for help on reducing or quitting it, using digital means, to avoid contact with people and not break the quarantine. Also, try using less harmful alternatives such as nicotine patches, gums, and nicotine free chew tobacco pouches.
• During the period of quarantine it is vitally important to keep public and home spaces 100% free of tobacco smoke.