This kind of ice-cream is very popular in the center of the Costa Rican capital city. Some frappé (or straw ice-creams) shops have been open for over 112 years. One of these shops dedicated to this is Lolo Mora, which sells home-made frappes. Frappés are often called "The Costa Rican ice-cream" and the most popular ice-cream in the country.
The majority of these shops are located in the middle of the central flea markets in the big cities of Costa Rica, especially in San Jose where it is common to see street vendors and craftsmen everywhere.
As said before, one of the most popular ice-cream shops of Costa Rica is Lolo Mora, which has been open for 112 years. There are other ice-cream shops but this is the oldest one. Eating home-made ice-cream is very common in Costa Rica.
Nobody knows when the home-made ice-cream tradition started. The ice-cream is usually made of milk, sugar, cinnamon, nutmeg and cloves. This type of ice-cream has fascinated generations. It is said that they started to become popular among the population four generations ago.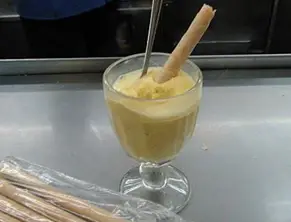 "There are many shops that sell this kind of ice-cream in the country. The recipe comes from the beginning of the last century. We can still see a lot of old people selling this product using the same recipe. Costa Ricans are fond of natural ice-cream."
Although some former owners have already passed, this business is still on fire in the capital city. Most of the current owners are the grandchildren of the people who once started this business since 1900. The larger part of these shops is part of a family business.
One of the first ice-cream machines was brought from England and it had the capacity of three and a half gallons. In those times, shop-keepers used this machine from 5 am to 11 pm during the high season. It was necessary to hire an electromechanical technician to manufacture a bigger machine that could have a capacity of 16 gallons for every 40 minutes.
Believe it or not, some owners are actually professionals. This has allowed them to run their business properly. They are always looking for more productive ice-cream machines.
"When we hear rumors that something is going wrong, we analyze the situation, we make sure that there's nothing wrong with the recipe and we usually turn to the oldest customers for a word of advice"
In more than a century, these shops count on a very loyal clientele. You can hear old people telling anecdotes and bringing their grandchildren to these places for an icy.
"Surprisingly, when Mr. Miguel Angel Rodriguez was campaigning, he came to Lolo Mora, and some time later he became the president of Costa rica. He still comes very frequently. And the same happened with Laura Chinchilla and Luis Guillermo Solis"
Yet, straw ice-creams are not the only things for sale in these shops. Frappés, fruit salad, smoothies, gel, and guava ice-creams are also available.
This product has been awarded in other opportunities. Lots of Costa Ricans go to those places to indulge one or two of these frozen sweets.
Saturdays are the best days for selling straw ice-creams. They are available in all sizes and for no more than 2900 colones.
These ice-creams are completely natural and contain no chemicals. Consumers are the first to analyze the quality and flavor of this product. Added to this fact, this natural ice-cream is thought to be brought into other Costa Rican states.
These shops are usually open from 9:30 am to 5:30 pm.