Ocean Views! $200k lots selling for $50k! Costa Rica Buyers Market!
We have uncovered some of the best deals on real estate in Costa Rica, such as the fantastic steal of a deal going on right now in Columbus Heights. Due to the fall of the economy, the prices have dropped dramatically and it's a great idea to get in and buy before the economy fully recovers and the prices rise again. It's a steal to get these $200,000 lots for $50,000!!!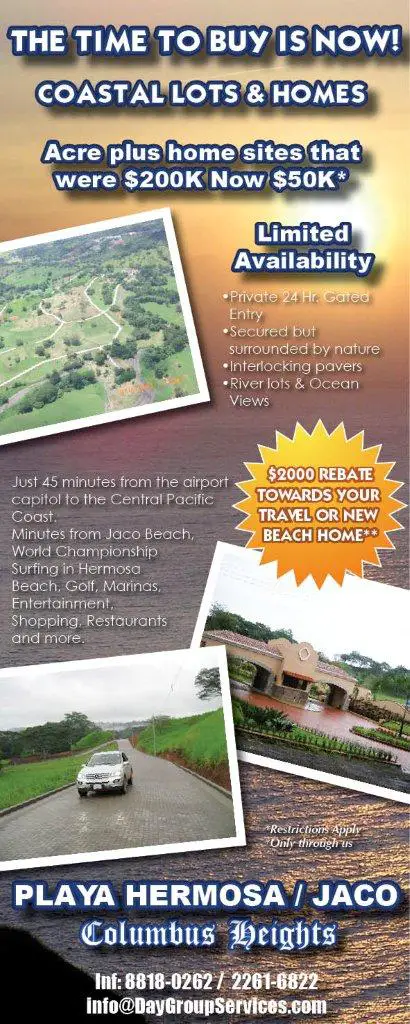 Testimonials
"This was one of the best decisions I have ever made. I feel like I've added years to my life."
-Jonas Q.
"I searched all over Central America for the perfect spot to build my dream home and this is it!"
-Rachael S.
"The knowledgeable staff at The Costa Rica News were invaluable in both my viewing and eventual purchase at Columbus Heights. I can't imagine having done this without them!"
-Riley H.
"We love it here so much we have decided to make the move permanent and leave the hectic city life behind."
-Jon & Carol D.
$200,000 lots going for as little as $50,000
Christopher Columbus called Costa Rica the "Rich Coast" upon his discovery in 1502. Thus, it's only natural Costa Rica would become the site selection for the filming of the movie 1492 THE CONQUEST OF PARADISE. The movie was released in 1992 with Gerard Depardieu, Armand Assante and Sigourney Weaver, produced by Touchstone Pictures. The site location of the movie features sections of the property, which appear in the movie, therefore naming this development Columbus Heights. When you first step onto the property and see this slice of paradise, you quickly realize why Hollywood chose this location.
The surroundings consist of enchanting rain forests, world class fishing, majestic mountains, and countless virgin beaches nestled among rocky bluffs, enclosed by numerous peninsulas and bays of unsurpassed scenic beauty. This natural heritage has formed one of the world's most outstanding biological reserve and national park systems.
Welcome to Columbus Heights!
Columbus Heights

Incredible views
State-of-the-art infrastructure
24-hour security
Minimum 5,000 sq. meter lots
Interlocking road ways
Choice of Ocean, River or Mountain views
Enjoy the Laidback Costa Rica Lifestyle
These lots are located on the Central Pacific coast of Costa Rica, which is famous for having the cleanest, most beautiful beaches in the world. Just minutes away from Hermosa Beach and Playa Jaco, its perfect for those that want to be close to a population center but still want secluded privacy.With the new San Jose-Jaco highway completed, these lots are only 45 minutes from airport to beach…

World Class Golf

Nestled alongside an exotic rainforest with breathtaking ocean views, La Iguana is an 18-hole, par-72 championship course that offers not only a challenging Ted Robinson-designed layout but also a spectacular gallery featuring friendly monkeys and brightly hued macaws. Your knowledgeable golf guides will be happy to point them out. But make no mistake: the mesmerizing scenery masks a challenging course – one well worth conquering.

Top Notch Services

The Marina is the only government sanctioned marina operating in Costa Rica. With 200 wet slips, 100 dry slips, fuel dock, and full-time staff, the marina is the ultimate full service port for many luxury sportfishing boats and luxury yachts. The wet slips accommodate vessels from 30 to 180 feet in length, while the dry storage spaces accommodate vessels under 35 feet in length.

Live the Adventure!

The waters surrounding this community are considered to be among the best billfishing grounds in the world. Pacific sailfish are abundant, while large black and blue marlin are caught on a daily basis.

The nearby canopy tour is a truly unique Costa Rican adventure – an adrenaline-pumping ride through the treetops via a secure system of zip lines.

Costa Rica is home to 4 active volcanoes, each surrounded by beautiful national parks. These famous giants are within easy reach from the community.
————————————-
If you are interested in learning more about this amazing deal, please fill the form and a representative in Costa Rica will respond within 24 hours (usually much sooner).
cforms contact form by delicious:days
By
TCRN STAFF
. Posted on Monday, August 29th, 2011. Filed under
Business
. Tags:
costa rica development
,
costa rica lots
,
costa rica property
,
costa rica real estate
,
Daily News
,
own a home in costa rica
,
real estate investment costa rica
,
top investment costa rica
.