Chinchilla Supports International Campaign to Abolish Nuclear Weapons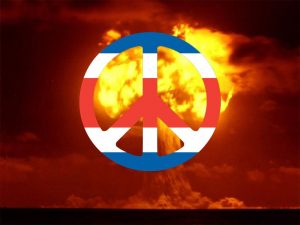 Costa Rica News – Costa Rica's President Laura Chinchilla signed a message of support for the Treaty to Ban Nuclear Weapons, driven by the International Campaign to Abolish Nuclear Weapons (ICAN).
In an official ceremony organized by the ICAN and students of the University for Peace, Chinchilla said that peace should not be the subject of prayers for some people of the world, but everyone.
Students gave the Costa Rican president thousand paper cranes as a symbol of support for a world free of nuclear weapons.
Costa Rica, said the president, stands precisely "for advocating and over again, through a set of facts, the call for peace", especially by abolishing their own army in 1948.
The Costa Rica News (TCRN)
San Jose Costa Rica
Related articles:
Thousands of Students March and Chinchilla Praised Them as "civilian army" Independence Day Costa Rica
By
TCRN STAFF
. Posted on Wednesday, February 13th, 2013. Filed under
Costa Rica Headlines
. Tags:
costa rica peace
,
Daily News
.